News & Information
---
PRESS RELEASE

Learn To Carry and D.T. Systems Announce Debut of Revolutionary Prototype
A first of its kind in modern defensive firearms training technology.
Columbia, MO - May 24, 2011 - Learn To Carry, LLC, a leader in firearms training, along with DT Systems, LLC, a company specializing in development of remotely-operated vehicles, are excited to introduce a jointly-developed revolutionary robotic target system to the world of defensive firearms training.
Traditionally, the problem with firearms training has always been that the targets seldom move and never shoot back. This shortcoming is resolved with the "RAT," the Robotic Attacking Target. The prototype RAT moves like a bad guy, at variable speeds and directions. It can cover the seven yards of the Tueller drill in 1.5 seconds or faster, and turn from a shoot target to a no-shoot in well under a second. The production version of the RAT will have the option of adding functions including a target that drops when hit center of mass, as well as aim-and-shoot airsoft capabilities.
"We have been able to cause students' minds to react to the RAT by going into 'Fight, Flight or Freeze Syndrome.' By gaining this valuable experience in training, they are much better prepared to handle a real life situation in the future," said Mr. Oliver, Director of Learn To Carry.
Tim Oliver first developed the idea for this type of target system from a WW2 movie on aerial gunnery. Mr. Oliver combined his experience in non-destructive testing of defensive tactics along with modern airsoft equipment. He knew that, through advanced robotics, a target system could be made to move like a person and to shoot back. Mr. Oliver contacted Mike Holloway and Troy Elliott, owners of DT Systems, and the prototype RAT entered development.
###

For more information on the RAT, contact:
Tim Oliver
573.442.0337
Tim@LearnToCarry.com

---
PRESS RELEASE

Learn to Carry, LLC is excited to announce new location for mid-Missouri courses.
Columbia, MO (July 8, 2010) Learn to Carry, LLC has left its Targetmasters training facility for a prime location within Green Valley Rifle & Pistol Club. All courses currently scheduled will immediately begin enjoying the benefits of the new location. The exciting move will improve safety, teaching environment, classroom settings, and range facilities.
"Learn to Carry is thrilled to be operating exclusively in the mid Missouri area at Green Valley Rifle & Pistol Club. This is the premier range facility in the Midwest. Last month, the LTC team of professional instructors decided after careful consideration to end its affiliation with Targetmasters." - Tim Oliver
Green Valley Rifle & Pistol Club is located 4.8 miles north of Columbia off Paris Rd/Rte B on Academy Road. This Club is a world renowned facility, home of the Bianchi/NRA National Action Pistol Championship Tournament featuring 12 ranges, moving targets and much more.
The team at Learn to Carry is confident this new facility will far exceed the training, safety, environment, comfort, and utility of the previous location. This move will provide the students with a much better overall learning experience.
About Learn to Carry, LLC.
Since 2003 Learn to Carry, LLC has provided conceal and carry permit training along with advanced Defensive Pistol Craft courses. All of our instructors are certified to teach this subject to law enforcement officers across the state. Learn to Carry instructors have almost 60 years of combined experience teaching law enforcement and military Defensive Pistol Craft skills.
Contact
Tim Oliver
Tim@LearnToCarry.com
(573) 442-0337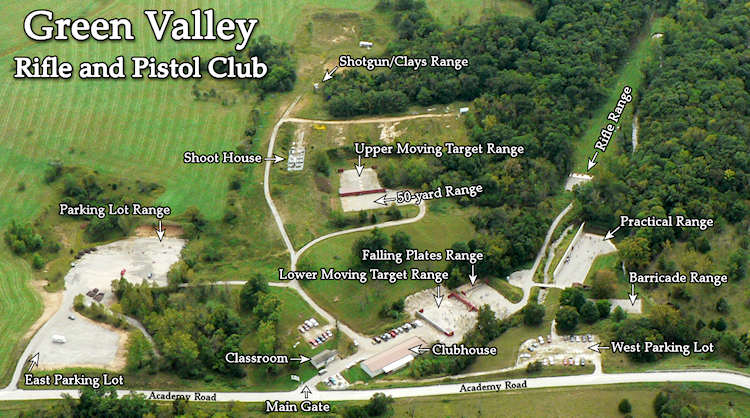 ---
FREE - "No Guns, No Money" Cards
The card section has been moved!

We've added a good selection of different cards -- so many that they deserved a whole webpage! The quality of the cards has been greatly improved too, so head over to the new "No Guns, No Money" webpage and download your own ready-to-print cards now.
-Mona